PRESS RELEASE: FOUR SHORT FILMS BY HOMEGROWN DIRECTORS ON OUR REFRESHED SINGAPORE DREAM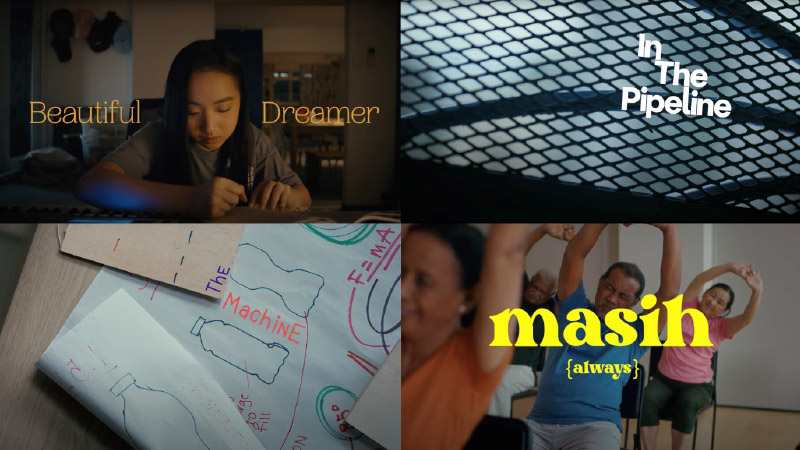 1. Singapore, 9 November 2023 – Homegrown Singaporean film directors – Boo Junfeng, K. Rajagopal, Siyou Tan and Roslee Yusof – have each directed a short film to encourage Singaporeans to reflect on key issues raised during the Forward Singapore (Forward SG) exercise, and highlight how everyone has a role to play in building Singapore's shared future together. The four films will be launched today on Our SG and Gov.sg's social media platforms.
2. The four films articulate the aspirational possibilities of Singaporeans embracing the new social compact; it fleshes out the importance of recognising new definitions of success, respecting different pathways, taking care of our career health through lifelong learning, active ageing, and supporting our neighbours and communities. The stories are presented in everyday scenarios, which are familiar and relatable to viewers.
3. Boo Junfeng's "Beautiful Dreamer" is about Leong, a taxi driver, who discovers his granddaughter Kai's passion for music and grapples with his own unfulfilled dreams. As he supports Kai's aspirations, they both find solace and connection in Kai's pursuit of her passions, reflecting how Singaporeans can embrace learning beyond grades to fulfil their potential and realise their dreams.
4. K. Rajagopal's "In the Pipeline" seeks to challenge conventional ideals of success and stereotypes of jobs for women and skilled labour in Singapore today. The protagonist, Vanessa, is an apprentice plumber who shows how a skilled worker's path is just as valued and meaningful in its own way.
5. Siyou Tan's "The Machine" showcases how modern-day fathers now play a more active role in the upbringing of their children. A young father, Hari, is caught between the demands of his job and his desire to be more present for his daughter, Deepa. In the film, Hari and the community come together to support Deepa in her pursuits.
6. Roslee Yusof's "Masih (Always)" is a romantic short film that features a grumpy retiree named Jufri. With time on his hands, his deaf daughter, Aisyah, signs him up for active-ageing courses against his will. Initially reluctant, a spritely elderly lady, Su helps him find a sense of independence and a love for the silver years ahead of him.
7. The full synopsis of the four films, Directors' notes, and film stills can be found in the Annexes.
8. To view more ideas proposed by Singaporeans during the Forward SG exercise, and explore opportunities where you can engage or partner the Government, visit the Forward SG website at www.forwardsingapore.gov.sg and the various Our SG social media platforms below.
www.facebook.com/oursingapore | @oursingapore
www.instagram.com/our_sg | @our_sg
www.youtube.com/c/oursg| @oursg
www.linkedin.com/company/oursg | @oursg
---

For media clarifications, please contact:
Ministry of Communications and Information (MCI)
Ms Shyaan Ng
Senior Manager, Media Division, MCI
Email: Shyaan_NG@mci.gov.sg
Ms Pang Yat Kah
Assistant Director, Media Division, MCI
Email: Pang_Yat_Kah@mci.gov.sg
Dentsu
Ms Carol Wee
Communications Director, Dentsu Singapore
Email: Carol.Wee@dentsu.com
Ms Lydia Yeo
Communications Manager, Dentsu Singapore
Email: Lydia.Yeo@dentsu.com
Download the PDF version of the Press Release with annexes
DOWNLOAD NOW
RELATED
Other related content that might interest you
Press Release
27 Oct 2023
Release of Forward Singapore Report: 4G Unveils Roadmap to Build Our Shared Future
Press Release
28 Jun 2022
Press Release Launch of Forward Singapore (28 June 2022)
Parliamentary Reply: Progress of the Forward Singapore Exercise
FY2023 Budget Debate Round-Up Speech by Deputy Prime Minister and Minister of Finance, Mr Lawrence Wong
Deputy Prime Minister Lawrence Wong's Opening Remarks at Launch of Forward Singapore Festival on 27 Oct 2023