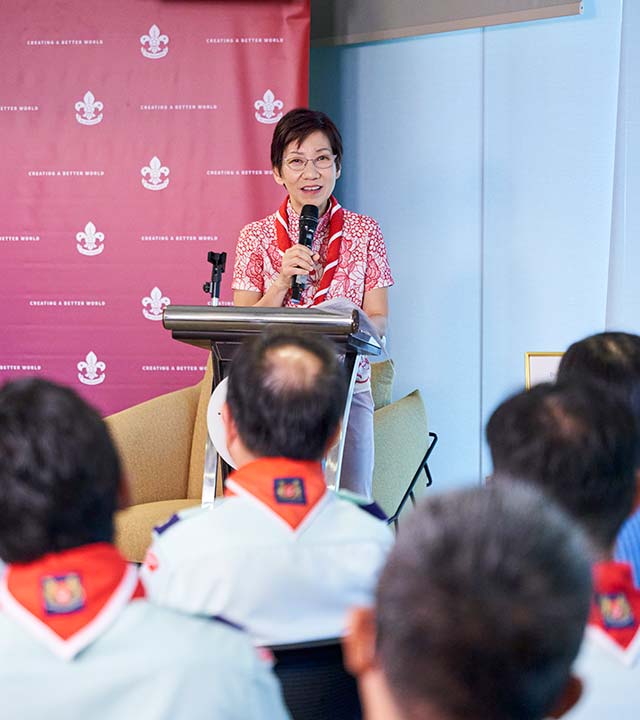 Forward Singapore (Steward Pillar): Collective effort needed for a greener and more climate-resilient Singapore
Minister for Sustainability and the Environment, Ms Grace Fu joined close to 100 scouts at this year's Diamond Jubilee Challenge Launch event on 14 January 2023, officially kickstarting the Scouts' Year of The Environment.
In her opening remarks at the event, Minister Fu outlined how climate change could pose a significant threat to Singapore. For instance, extreme weather could cause significant disruption in food production, energy generation and logistics delivery. As a resource-scarce and trade-dependent country, such conditions would threaten our food and energy security which in turn could contribute to the increase in prices for the goods and services.
Another example cited by Minister Fu is the threat of more frequent and intense rainfall, which could overwhelm our current drainage system and cause severe flooding.
Dealing with The Effects of Climate Change
● In the face of these challenges, Minister Fu assured that the Government has been taken active measures to mitigate the impact. She elaborated on three specific policies: Mitigating Future Flood Risks. The Government is developing inland flooding models to assess flood risks and is studying more vulnerable parts of our coasts to develop site-specific coastal protection solutions for these areas.
● Carbon Tax. The carbon tax will be raised from the current $5 per tonne of emissions to $25 per tonne in 2024 to reach $50-80 per tonne by 2030.
● Energy Efficiency Fund (E2F). This fund consists of five different grants to support businesses in adopting energy-efficient technologies to reduce their carbon footprint.
Last year, Singapore raised our climate ambition to achieve net zero by 2050. This strengthens our commitment to realising the United Nations' Sustainable Development Goals.
Refreshing our Social Compact in the face of Climate Change
While the Government does its part to implement sound policies, this is insufficient to tackle climate change. Minister Fu called for community and public sector partners, as well as every Singaporean to work together in the way forward.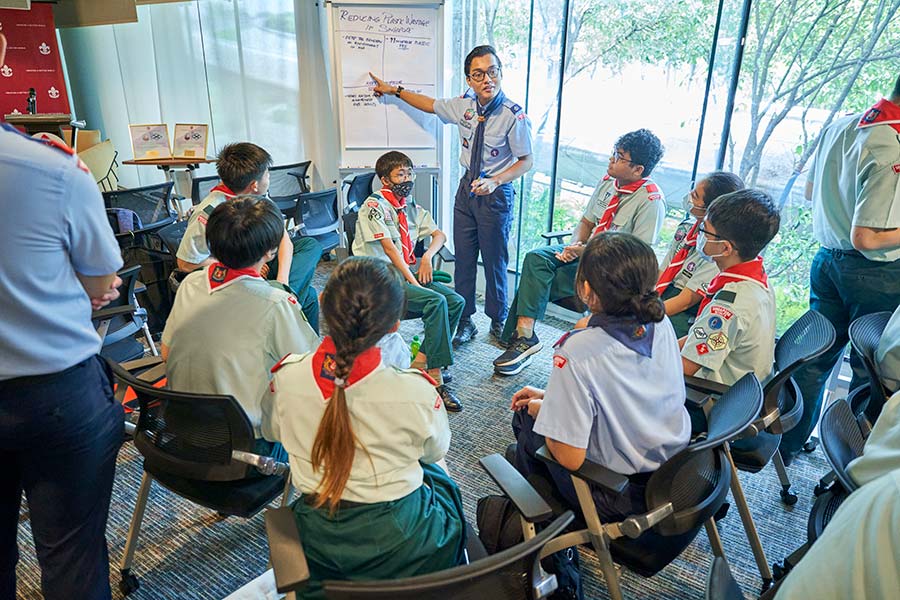 Participants from the Singapore Scout Association brainstormed on how they can do their part for the environment. (Credit: MCI / Kevin)

She explained that the Forward Singapore exercise was launched to allow Singaporeans to come together to envision what a net-zero Singapore would look like, what Singapore should prioritise and how they plan to contribute.
In that spirit, Minister Fu challenged the participants present to think about what trade-offs would be involved in achieving climate resilience, and how individuals play a part in achieving the collective goal of a net zero future for Singapore.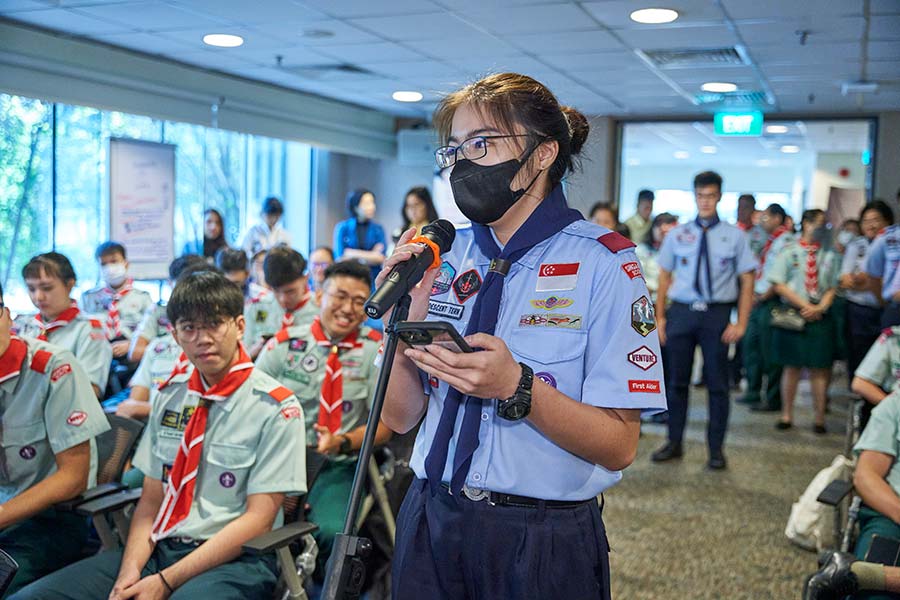 A scout participant shared her question on climate change during the dialogue with the Minister of Sustainability and The Environment. (Credit: MCI / Kevin)
Ready to do your part for climate change?
Make your Green Nation pledge and commit to playing your part in this effort here.
Join the conversation in charting our collective journey towards a greener, more liveable and climate-resilient Singapore here.
Opportunities to participate
Discover the opportunities for you to play your part in building a better Singapore together.