Forward Singapore (Build Pillar): Enhancing digital access and inclusion for lower-income households
Minister for Communications and Information, Mrs Josephine Teo, joined over 50 representatives from self-help groups, technology companies, social service agencies and non-profits at MCI's Forward Singapore engagement session on digital inclusion on 3 February 2023.
Participants shared their experiences in providing digital access for lower-income households and seniors and provided suggestions on how to improve private-public-people collaboration to ensure beneficiaries are better integrated into today's digital world.

Participants discussing their suggestions on how citizens and the Government can better collaborate to improve digital inclusion. (Credit: MCI/Kevin Khng)
One suggestion involved the creation of an information kit that non-profit outfits can use to better communicate policy schemes to their beneficiaries, streamlining current onboarding processes and expanding the available options for beneficiaries that they can top up to enjoy.
Strengthening our Digital Social Compact
In her closing remarks, Minister Teo acknowledged that while we possess a strong digital foundation, a small segment of our population would find it difficult and painful to embark on digitalisation. She added that the Government will continue to collaborate with partners to ensure every Singaporean thrives in the digital age.
Today, we say that 99% of households in Singapore has broadband access, Let's not forget that 1%
Minister Teo emphasised that the Government will continue to work on streamlining processes to better support Singaporeans. To achieve this, the Government will adopt a human-centric approach towards policy making and scheme implementation and work with community partners to strengthen the digital skills of beneficiaries.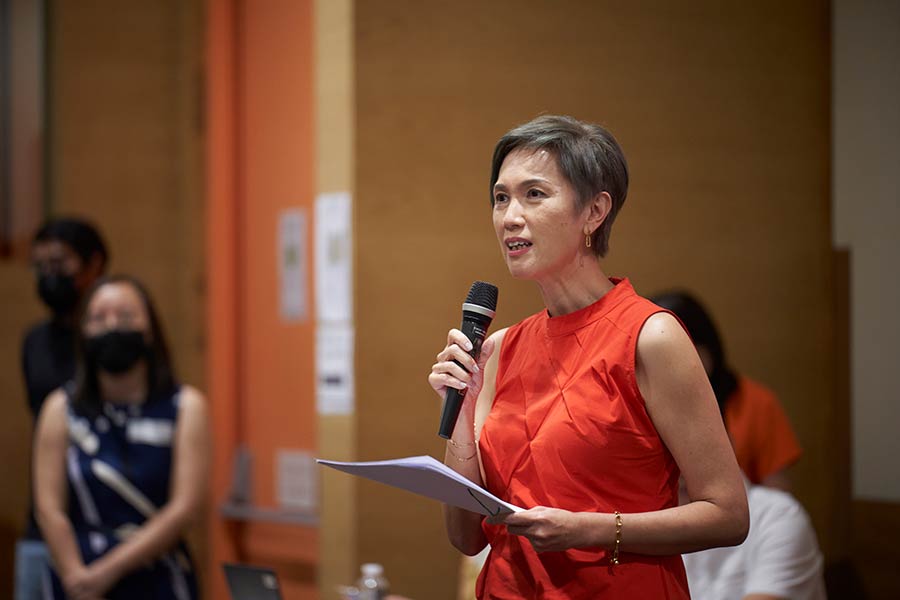 Minister Josephine Teo presenting her closing remarks at the Forward Singapore Dialogue (Credit MCI/Kevin Khng)
Minister Teo cited the Singapore Digital for Life Movement as an example of successful collaboration between the Government and its partners. Since its inception in 2021, 140 citizen-initiated, ground-up projects have helped more Singaporeans embrace digitalisation.
the ambition that we want, to strengthen our digital social compact, so that everyone in Singapore can feel that the digital future for them is safe, inclusive and caring.

Want to Help Singapore Become Digitally Inclusive?
Do you want to build a digitally inclusive Singapore? Click here to find out more!
Share your views and ideas through our Forward SG conversations on how we can improve digital inclusion in Singapore.
Opportunities to participate
Discover the opportunities for you to play your part in building a better Singapore together.