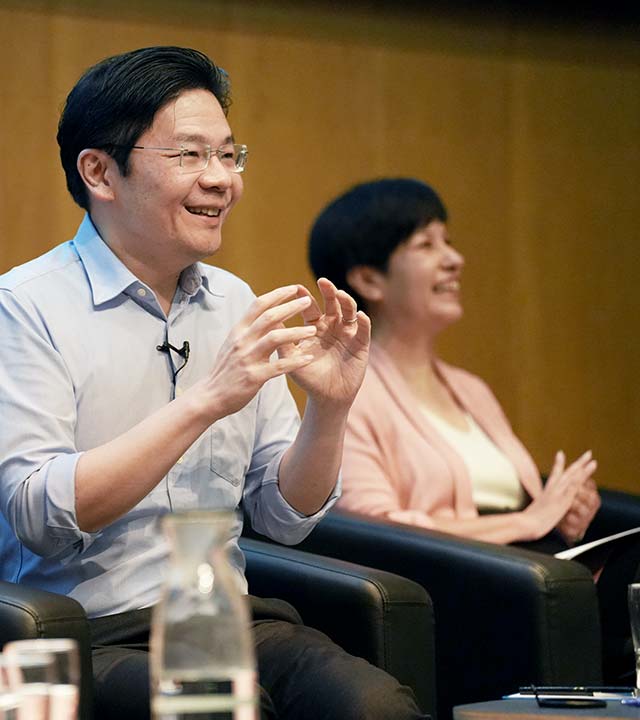 Forward Singapore: Journeying Together Towards a Fairer, More Inclusive Singapore
Deputy Prime Minister Lawrence Wong met over 200 social service practitioners to hear their views on how the Government and the community can work together to build a society with stronger safety nets and collective support for Singaporeans, especially for the lower-income groups, seniors, and young families. This was part of the Forward Singapore Conversation, and DPM Wong was joined by Minister in the Prime Minister's Office and Second Minister for Finance and National Development Ms Indranee Rajah, Minister of State for Home Affairs and Social and Family Development Ms Sun Xueling, and Senior Parliamentary Secretary for Health and Law Mdm Rahayu Mahzam.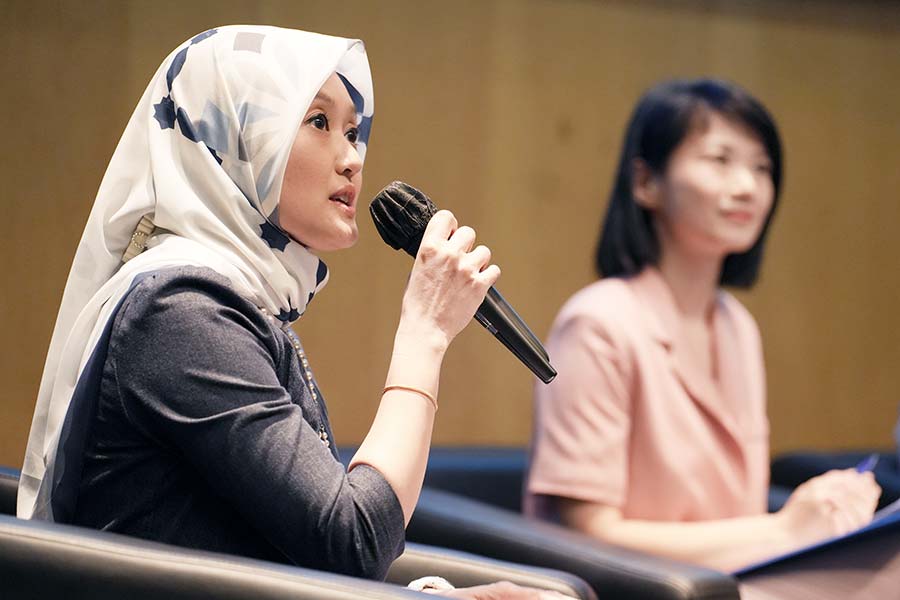 SPS Rahayu Mahzam sharing her views on how seniors can be given more support. (Credit: MCI / Ding Wei)
Refreshing social support
In his speech, DPM Wong acknowledged that Singapore's social compact was coming under more strains due to several factors which include the stretching out of incomes and wealth, slowing social mobility and a rapidly ageing population. He emphasised the need to find new ways to tackle these challenges to build a fairer and more inclusive society and laid out three key areas of focus:
1. Uplifting the lower-income and sustaining social mobility;
2. Supporting our growing number of seniors; and
3. Strengthening support for our families.
Any society which has been stable for a long time tends to stratify and become less socially mobile… we must deal with this challenge, or we risk becoming more stratified and unequal as a society, with a permanent underclass unable to progress.

Uplifting the lower-income and sustaining social mobility
To help lower-income families sustain progress and maintain social mobility, DPM Wong stressed the need for social services to be more integrated and tailored the individual needs of each family. While acknowledging that this would require more manpower and resources, he called for the Government, community partners and social services sector to work hand in hand towards this important goal.
The most important, and hardest, gap to narrow is not defined in terms of income or wealth, but in respect and status. How do we shift attitudes and mindsets so that the contributions of every individual and every worker across all professions are valued and appreciated.
Supporting seniors
On supporting the seniors, DPM Wong called for more to be done to revamp and strengthen the elder care sector even as we empower Singaporeans to live healthier, and lead more active lives through Healthier SG. The Government would also look into further strengthening retirement support for current seniors, including the lower-income groups.


Social service practitioners at the Forward Singapore Conversation with DPM Lawrence Wong, Minister Indranee Rajah, MOS Sun Xueling, and SPS Rahayu Mahzam on 10 October 2022. (Credit: MCI / Ding Wei)
Strengthening families
Family remains an important pillar of support. To encourage more young Singaporeans to start and raise a family, DPM Wong said that the Government will review how they can reprioritise resources and adjust existing marriage and parenthood measures that are no longer as relevant today. These include reviewing housing policies to see how to help first-time homebuyers secure a flat quickly and affordably; reviewing leave measures to better support parents in managing work and family commitment; and reducing the fee caps at Government-funded preschools in the coming year.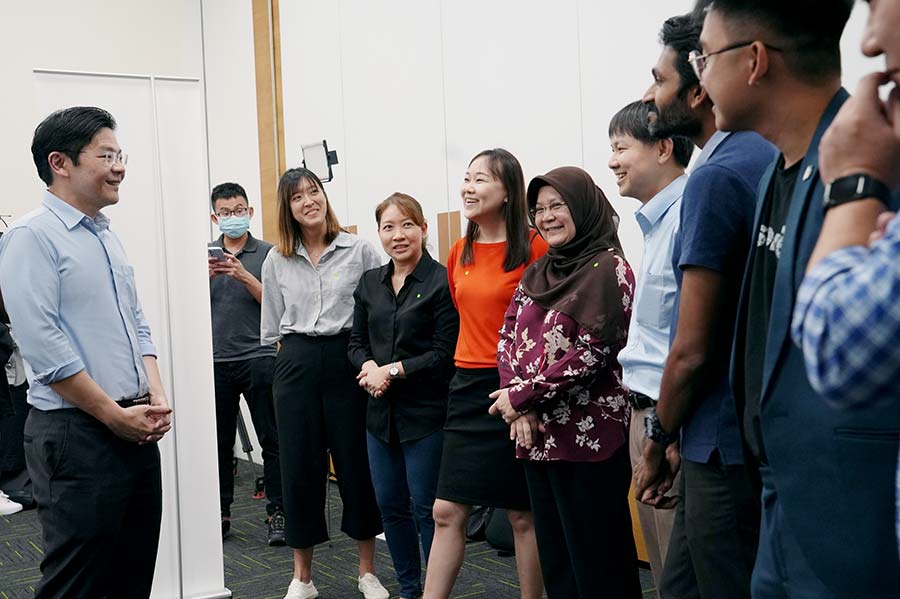 DPM Lawrence Wong speaking to several social service practitioners on the sidelines of the Forward Singapore Conversation on 10 October 2022. (Credit: MCI / Ding Wei)
It is worth remembering that our current social compact is forged based on a few core values that have been with us since Singapore's independence… These values will continue to guide us as we navigate the road ahead.
For DPM Wong's full speech, go
here
.

To share with us your ideas and feedback for Forward Singapore, go here.
Opportunities to participate
Discover the opportunities for you to play your part in building a better Singapore together.