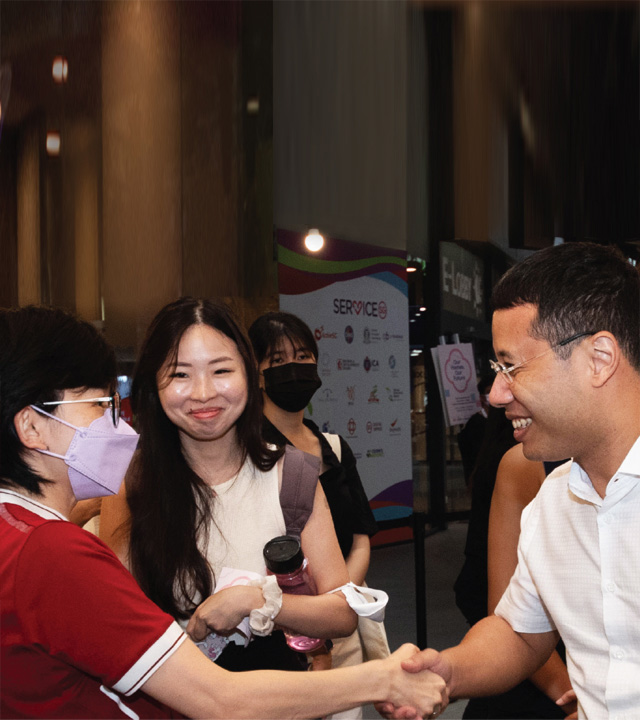 Forward Singapore: Refreshing the social compact on public housing to ensure affordable homes for Singaporeans
As part of the Forward Singapore engagement under the Build pillar, Minister for National Development (MND) Mr Desmond Lee visited the housing roadshow "Our Homes, Our Future" on 6 November 2022. He was joined by Minister for Transport Mr S. Iswaran, Minister for Communications and Information and Second Minister for Home Affairs Mrs Josephine Teo, and Senior Minister of State for National Development and Foreign Affairs Ms Sim Ann.
Launched in June 2022, the Forward Singapore exercise seeks to refresh Singapore's social compact across six thematic pillars – Empower, Equip, Care, Build, Steward and Unite.
The Build pillar focuses on three key priorities:
1. Housing – Improving the affordability and accessibility of public housing for Singaporeans
2. Transport – Building a land transport system that is accessible, inclusive and sustainable
3. Digitalisation – Harnessing technology to strengthen urban sustainability; and ensuring technology remains inclusive and accessible, especially for our ageing population
Senior Minister of State Sim Ann speaking to a member of the public at the roadshow on 6 November 2022. (Credit: MCI / Syafiq)
Providing affordable, liveable public housing
At the roadshow, Minister Desmond Lee, Minister Iswaran, Minister Josephine Teo and SMS Sim Ann took the opportunity to hear views from members of the public about shaping their living environment, including how the Government should review the public housing policies to better support young Singaporean families in owning their first home and measures to help the vulnerable groups in our society. These roving roadshows have since gathered suggestions and ideas from more than 5,500 Singaporeans on how Singapore could refresh its social compact on public housing.
We remain fully committed to ensuring that public housing remains accessible and affordable. That has been a long-standing pillar of our commitment to Singaporeans and a home-owning society has been our long-term aspirations.
Minister Desmond Lee explained that Singapore's social compact on public housing needed to evolve as our society changes and added that the conversations on how to go about doing so have been encouraging. He emphasised that the Government would study the ideas carefully and announce some changes to the public housing policies as part of the Forward Singapore exercise next year.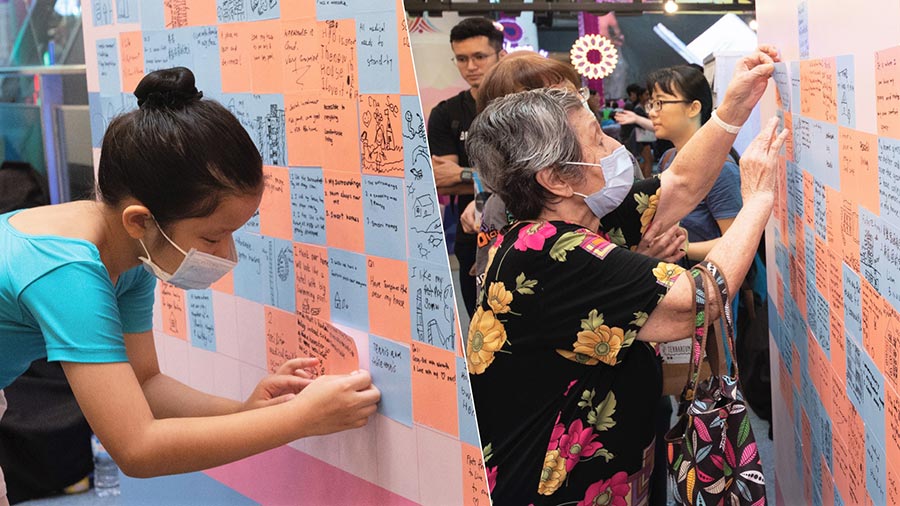 Members of the public placing post-its with their suggestions at the roadshow. (Credit: MCI / Syafiq)
Building an inclusive and accessible public transport system
Another key priority of the Build pillar is to partner Singaporeans to gather suggestions on how to transform the living environment in Singapore. The aim is to make Singapore's public transport system more inclusive, convenient and accessible to the different segments of the population.
Minister Iswaran said that some of the feedback that Singaporeans gave on the public transport system emphasised the first- and last-mile connectivity. There were also concerns about how Singapore should make the public transport system more inclusive in view of the ageing population.
Harnessing technology to strengthen urban sustainability
Digitalisation plays an important role in reinventing the built environment and bringing people together and this point was highlighted by Minister Josephine Teo at the roadshow. She explained that technology could be used to better design the built environment and work on new solutions to promote sustainable living in Singapore. She added that technology could also be used in preventive healthcare and aged care for the elderly, and digital platforms could foster community building. These efforts would go a long way to strengthen urban sustainability within Singapore.
The public housing programme is shaped by Singaporean's aspirations and is an important element in Singapore's social compact. How can we make Singapore the best home for ourselves, our families and our future generations?
Share your views here or participate in the next Forward Singapore engagement here.
Opportunities to participate
Discover the opportunities for you to play your part in building a better Singapore together.