CHARTING OUR WAY FORWARD
Forward Singapore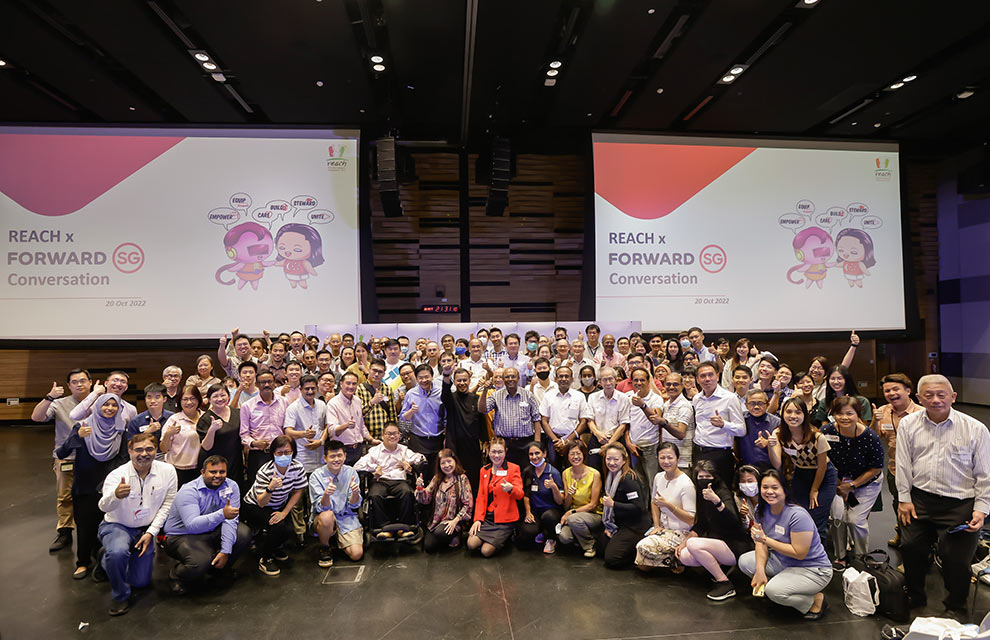 We are at a crossroads in our nation's journey. Our social compact must evolve and respond to both new opportunities and emerging challenges.
Forward Singapore is an exercise for all of us to come together, examine our values and aspirations, build consensus, and so refresh our social compact.
Through this exercise, we will examine what we want to see for Singapore's future, what we should prioritise, and what each of us is willing to contribute, in order to get there.
Participation Opportunities
Empower Questionnaire
Have your voice heard as we empower every worker with opportunities and assurance throughout life.
Green Nation Pledge
Pledge to take action for a green, liveable and climate-resilient Singapore!
MSF SG Cares Community Network
Register for a session to share your views on how we can support social mobility.
The exercise will be organised along six pillars, each headed by 4G leaders:
Each pillar will engage Singaporeans to understand their concerns, review policies, and establish new partnerships to implement changes.
The Forward Singapore exercise will last a year, and conclude with a report in mid-2023.
Min Chan Chun Sing delivering his closing remarks at the Equip pillar engagement on education and lifelong learning.
Participants exchanged views on their aspirations for education and lifelong learning at the Equip pillar engagement.
Minister of State Gan Siow Huang speaking with participants during a small group discussion.
How should the Singapore economy and jobs available reflect our shared values and beliefs? Find out here.
Senior Minister of State Sim Ann exchanging views with a visitor at MND's housing roadshow.
Ministers Desmond Lee, S. Iswaran, Josephine Teo and SMS Sim Ann interacting with members of the public.
Min Desmond Lee at MND's housing roadshow with Min S. Iswaran, Min Josephine Teo and SMS Sim Ann.
Minister Tan See Leng sharing about the Empower Pillar.
Minister Tan See Leng engaged in a small group discussion with PMEs.
Members of public sharing their stories and ideas on ensuring opportunities and assurance for workers on 2 Nov 2022.
Watch highlights of Dialogue on Strengthening Protections for Platform Workers on 11 Oct involving SMS Koh Poh Koon.
DPM Lawrence Wong giving his opening speech on Forward Singapore at NTUC's Labour Movement Conversation.
Fireside Chat between DPM Lawrence Wong, NTUC President Mary Liew, NTUC Sec-Gen Ng Chee Meng and event attendees.
Strengthening our social compact
Charting a new path forward, together
DPM Wong's hope for Singapore's future
Building a better and stronger Singapore
Helping all Singaporeans succeed in the next phase of development