FSG Conversations: Ageing in the Community
By MOH with IPS Social Lab
Join us for a discussion on how we can better enable seniors to age within their homes and communities! Contribute your views on how we can support our seniors in leading physically and socially active lives, and what can be improved to meet our seniors' needs and aspirations to age well in the community.
REGISTER HERE
Be a part of Forward Singapore Conversations on Ageing in the Community
What is involved
A 2 hour in-person focus group discussion on topics related to ageing in the community.
Who can take part
Singapore residents who are seniors aged 65 and above, and/or caregivers of seniors.
DETAILS
Lifelong Learning Institute (11 Eunos Road 8 Singapore 408601)
SUITABLE FOR
Adults
Seniors
COMMITMENT
Ad-hoc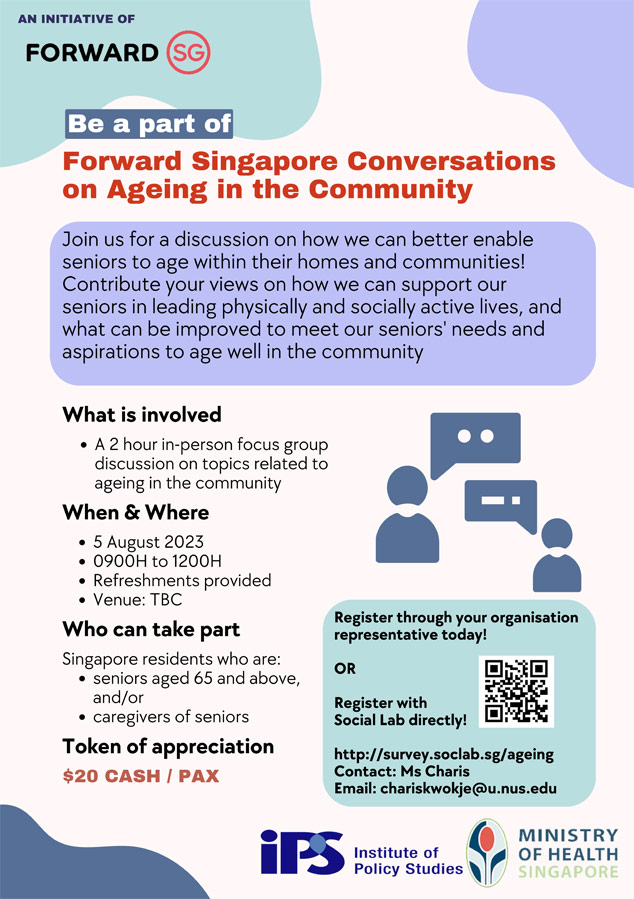 Opportunities to participate
Discover the opportunities for you to play your part in building a better Singapore together.